Protecting Waters in a Time of Rapid Change
We invite you to join us for NAWM's (formerly ASWM)Annual State/Tribal/Federal Coordination Meeting, to be held at the National Conservation Training Center (NCTC) from August 15-19, 2022. The purpose of this annual meeting is to support state and tribal wetland program managers, and other wetland professionals as they respond to challenges in the coming year. Although we are currently scheduled to be at the NCTC, we will be monitoring the COVID-19 pandemic very closely and will follow all federal guidelines and mandates related to the pandemic. If circumstances require it, we will shift the meeting to a fully virtual format.


Dates

August 15-19, 2022

Location

National Conservation Training Center
Shepherdstown, WV

Focus areas for this year's meeting include:

Sharing the Marsh: Approaches to Equitably Engaging Communities in Wetland Protection and Restoration

Staying Afloat: Regulatory Changes and Opportunities for States and Tribes

Building Your Nest: Developing a Community of Practice through Effective Outreach and Communications

Foraging for Funds: Sticking Your Straw into the Infrastructure Pot for Climate Resiliency

Learning to Fly: Advances in Geospatial Tools and Technology

Passing the Will-O'-Wisp: Continuity and Mentorship for Staffing Changes

INDEX
Draft Agenda is posted here. (8/4/22 - PDF)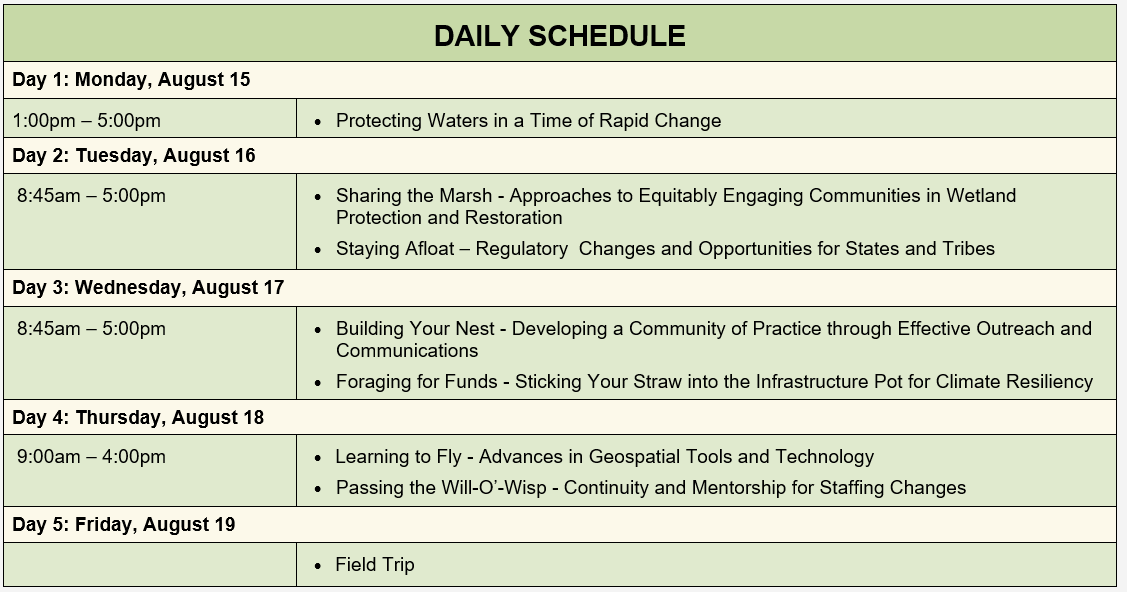 SPONSORSHIP OPPORTUNITY - BE A PART OF THIS GREAT EVENT!

Sponsor Benefits: Sponsors are invited to attend and interact with meeting participants throughout the four-day meeting. In the past, this meeting has been attended by approximately 135 engaged in-person participants. All sponsors receive prominent logo placement on all meeting materials and the option to have an exhibitor table at the meeting. Sponsor logos will appear on the Annual State/Tribal/Federal Coordination Meeting event website, meeting program and conference communications (including social media).

Deadline to apply is Friday, July 22, 2022.

Information on Sponsorship Opportunities is available here.



NAWM is looking to celebrate wetland art and photography at the STFC meeting this year! We ask you to submit your wetland related photography, as well as photos of paintings, sculptures, ceramics, and other forms of art using the following link. What will happen with these images? Specifically, NAWM is planning to run a slideshow of selected images with the title and submitter's name during the breaks at our August meeting at the NCTC. You will also be asked if you approve the use of these images in NAWM publications and on the NAWM website. We encourage you to give NAWM permission to use your photos after the August meeting, but it is not required for your participation in the slideshow shown during breaks.

Thank you to our Sponsors

Egret Sponsor


Kingfisher Sponsor

Updated 8/4/22
FIELD TRIP INFORMATION - FRIDAY, AUGUST 19TH - MORGAN WETLAND IN LIEU FEE SITE AND COOL SPRING NATURE PRESERVE (8AM-2PM, WITH BOXED LUNCH)
The West Virginia Department of Environmental Protection (WVDEP) and The Potomac Valley Audubon Society have graciously offered to be our guides at two wetland sites near the NCTC. First, we will head over to the Morgan Wetland In Lieu Fee Site by Lake Louise where we will learn about the past history of the site, current challenges, and identify several native plant species. Then we will head over to Cool Spring Nature Preserve owned and managed by Potomac Valley Audubon Society. The Preserve consists of 63 acres of forest, meadow, and marsh in southern Jefferson County. Bullskin Run, a major stream with significant historical value, borders one side of the preserve. Cool Spring is designated as a "birding hotspot." In Spring 2020, the entire preserve was placed under a conservation easement with the West Virginia Land Trust. Download iNaturalist on your smart phone for this visit! These sites will provide good opportunities to discuss restoration strategies as well as get out to enjoy summertime in West Virginia.
A maximum of 24 people will be allowed to attend, so if you are interested you should sign up soon. All attendees will be required to sign a liability waiver. Ticks and bees are a risk at these sites please be prepared and bring plenty of sun protection and water.
We will depart from the NCTC at 8:00am and return by 2:00pm at the latest. Boxed lunches will be ordered for field trip participants during the meeting in preparation for Friday's field trip.
More information on the field trip. (PDF)


Registration for in-person attendance is now closed. Join us by Remote Participation. See below.

REMOTE PARTICIPATION - REGISTRATION DEADLINE IS WEDNESDAY, AUGUST 10TH AT 3:00 P.M. ET
We are pleased to be providing Remote Participation for the meeting sessions through the "Go to Webinar" software that NAWM uses for its regular webinars. Although we do our best to keep the meeting on schedule, please keep in mind that this is a live event, thus start and end times for presentation and panels may vary slightly from the agenda. REGISTER HERE FOR REMOTE PARTICIPATION. Once you have registered and paid, you will receive link(s) to the remote sessions by email from NAWM.
*Please note that registration is for a single log on access to the "GoToWebinar" system. Multiple logons under the same registration will be removed from the system.

CANCELLATION/REFUND POLICY FOR IN-PERSON PARTICIPATION
If your plans change and you cannot attend, written notice must be provided to Laura Burchill at NAWM () by the following deadlines:
Cancellation Deadlines

July 18 - August 1, 2022

Full refund, less a $50.00 service charge

After August 1, 2022

No refund

Any time before August 10, 2022

You may substitute the name on your registration, but you must notify NAWM of the change.
NAWM is committed to providing a safe and welcoming environment for the annual State/Tribal/Federal Coordination (STFC) Meeting. All individuals participating in any in-person aspect of the Annual Meeting are required to follow the policies of the U.S. Centers for Disease Control and Prevention and the National Conservation Training Center (NCTC). We will continue to revise our procedures as needed to reflect the current state of the pandemic. Anyone who refuses to follow NCTC COVID-19 protocols and requirements will be required to leave the facility immediately and will not receive a refund for any expenses incurred by attending NAWM's Annual Meeting. NAWM cannot, however, guarantee that NAWM staff, board members or other in-person attendees at this meeting will not become infected with COVID-19. Read more here.
NCTC COVID POLCY (Updated 7/28/22)
Reminder: Only participants/instructors are allowed on campus at this time.
The NCTC is committed to the safety of everyone involved in our trainings and meetings. Please read below to understand the policies we have in place to manage operations with your safety in mind.

Covid-19 Protocols:
Please do not travel if at any time within 10 days of your meeting or course if you are experiencing COVID-19 symptoms, if you have been exposed to COVID-19, or if you have been ill with COVID-19. If you experience any of the aforementioned conditions within 10 days of your meeting or course, please contact me to cancel your enrollment.
Before you travel to ANY NCTC course:
Prepare to be flexible.

Review CDC Travel Guidance: What you need to know before you travel.

Pack the following

:

Face masks (these will be required if NCTC's status is orange)

Tissues

Alcohol based hand sanitizer (at least 60% alcohol)

Disinfectant wipes (at least 70% alcohol)

Thermometer

Rapid tests (rapid tests are available from the NCTC nurse)

Decongestant/cough suppressant/fever reducing medicines

Remember safety first. NCTC reserves the right to cancel or postpone a meeting or class at any time before or during the course as needed to keep participants safe.
Current Vaccination and Masking Information:
The NCTC follows CDC's mask guidance and agency protocols for in-person gatherings, based on COVID-19 community-level risk metrics that consider local hospitalization and intensive care capacity and transmission rates. The community level for the Jefferson County, West Virginia may be found by searching here. The current community level is communicated on signage throughout campus, and may change immediately prior to or during your meeting or course, so please be prepared for changing conditions and requirements, including universal masking.
Based on the current community level, the NCTC will be following the protocols for in-person meetings, courses, or events listed in the table found on the NCTC COVID-19 information page. When the community level is yellow or orange, all attendees at NCTC courses or events will be provided with a vaccination attestation form with their registration materials upon arrival. Attendees who are not fully vaccinated or who decline to attest to their vaccination status must provide proof of a negative COVID-19 test result taken within three days prior to entering the event, if asked. Please plan accordingly. Masks are required in ANY shared vehicle regardless of community level (busses, shuttles, government vehicles, etc.).
If you become ill while on campus:
If you begin to experience COVID-related symptoms while on campus your first step is to quarantine by remaining in your room and following all quarantine and isolation protocols developed by the CDC. Please ensure you bring enough personal clothing and supplies (e.g., prescription medications) to last through a complete isolation period (up to ten days if symptoms persist), just in case you are infected with COVID-19 while you are visiting.

Next you should:
Inform your Course Leader or event coordinator and your supervisor.

Follow CDC guidance for what to do if sick.

The NCTC can assist COVID-19 positive individuals unable to travel by providing quarantine lodging space, as needed.

THE NATIONAL CONSERVATION TRAINING CENTER
698 Conservation Way
Shepherdstown, WV 25443
Phone: 877-706-6282 or 304-876-7900

Single Room Rate is $165 per person per night (includes $15 per night sustainability fee and meal plan). Participants who lodge on-site must participate in the NCTC Meal Plan that begins with dinner on the day of check-in and ends with lunch on the day of check-out. Please call NCTC for reservations and mention that you are part of the NAWM room block. Please note, NCTC does not have any rooms available for the night of Friday, August 19th.
Location
The National Conservation Training Center, or frequently referred to as NCTC, is located just 60 miles or just over 1 hour outside the Washington DC metropolitan beltway. They are part of the Shepherdstown, West Virginia community also known for the nearby state university just down the road. They are located closest to the Washington Dulles International Airport, but many customers also use Baltimore/Washington International and Reagan National (DC) Airport.
Directions to NCTC ~ Maps ~ Shuttle Service ~ Facility
Directions to NCTC
Baltimore-Washington International Airport
Shuttle Service is available for arrivals from Dulles Airport to NCTC on Sunday, August 14th at 1:00 p.m., 4:00 p.m. and 7:00 p.m. Then from NCTC to Dulles Airport on Friday, August 19th at 1:30 p.m., 4:30 p.m. and 7:30 p.m. The cost is $100 for one way or round trip. You may reserve a time for the shuttle when making your room reservation.
Carpool Sign Up: Looking for a ride or can offer a colleague a ride, please sign up here.
Maps
Google Maps: Mapping websites have a difficult time locating NCTC using their mailing address. However, Google Maps will show you how to get to the NCTC entrance via 100 Col Shepherd Rd, Shepherdstown, WV 25443, USA.
General Information: Phone, Hours, Dining, Day Care, Service, Gym
NCTC: Points of Interest, USFWS Conservation Library, USFWS Conservation Museum and Archives, Vallen Comrades Memorial Wall, Elm Grove Overlook, Butterfly Garden
Facility Activities: Birding, Fishing, Hunting, Hiking, Running, and Photography


Things to Do in Shepherdstown
Shepherdstown Visitors Center
Jefferson County WV Chamber of Commerce
Berkeley County WV Chamber of Commerce
Calendar of Events
For more local activities, visit the Friends of NCTC website.
Recreation, Entertainment, Attractions
Antiques and Flea Markets
Cress Creek Country Club
Morgan's Grove Park
Potomac Heritage National Scenic Trail
Potomac Valley Audubon Society
Shepherdstown Music and Dance
The Shepherdstown Opera House
Upper Potomac Music Weekends
Vineyards
Yankauer Nature Preserve
Washington Heritage Trail
A complete list of things to do in Shepherdstown, can be found here.
Agenda
Brenda Zollitsch, Senior Policy Analyst
National Association of Wetland Managers
(207) 892-3399;

Marla Stelk, Executive Director
National Association of Wetland Managers
(207) 892-3399;
General Information
Laura Burchill, Office Manager
National Association of Wetland Managers
500 Washington Avenue, Suite 201, Portland, ME 04103
(207) 892-3399; Fax: (207) 894-7992;