ASWM Webinar Series on Improving Aquatic Resource Protection through §401 Certification of Linear Energy Transmission Project Permits
Project Background: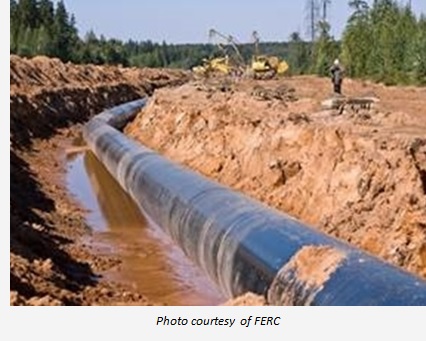 Energy projects, particularly pipelines, affect a range of aquatic resources, including wetlands. A single pipeline can cross hundreds of wetlands and streams. Disturbance of wetlands during pipeline development may also release greenhouse gasses. State §401 Certification review of energy development projects is a highly complex and time-consuming task, one that challenges most state wetland programs. The use of Section §401 to effectively participate in the FERC, DOE and other permit planning and review process relies on understanding about how energy permitting processes work. Early, upfront coordination between the state wetland program, federal permitting agencies, developers and their consultant intermediaries has been shown to be a key to successful aquatic resource protection.
To support this work, ASWM worked with a national workgroup to develop documents detailing pipeline permitting processes, points of access for wetland managers, key points of consideration for permit reviewers, best practices for mitigation of both permanent and temporary impacts, template energy project review materials to be adapted by state wetland programs and an online resource page with links to guidance, templates, tools, recorded webinars and contacts.
For more information and/or to join our email list for notices about upcoming events, please contact Laura Burchill at or (207) 892-3399.
View a List of Past Pipeline Permitting Webinar Recordings Here
As part of this project, ASWM delivered four webinars on topics that have been identified to address specific training needs:
ASWM Pipeline Permitting Webinars:
A List of Beaver Restoration Webinars Can Be Found Here. (PDF)
Members' Wetland Webinar - Held March 20, 2019
Understanding State Agency Opportunities for Third Party Compliance Monitoring on Pipeline Projects
Presenters: Mike Warner, Transcon Environmental, Inc. and Jeff Davis, Transcon Environmental, Inc.

Members' Wetland Webinar - June 12, 2019 - 3:00p.m.-4:30p.m. ET

Identifying Listed Species and Streamlining Section 7 Consultation for Wetland Permitting (And More): Introduction to the US Fish and Wildlife Service's Online IPaC Tool

Presenter: Victoria Foster, National IPaC Program Coordinator, U.S. Fish & Wildlife Service
The above ASWM Members' Wetland Webinars are only available to ASWM Members. This is one of the many benefits available to ASWM members. For more information on the benefits of membership and how to join, click here. If you are a member of ASWM, please log in to the NAWM website to view the webinar held on March 20th and June 12th.